With Medicare Part D nearing the end of its tenth year, the program — which now provides drug coverage to 72 percent of all Medicare beneficiaries — has experienced no growth in average premiums in recent years but some notable increases in cost-sharing, according to a new report from the Kaiser Family Foundation.
At a time of heightened public concern about the cost of prescription drugs, the report, Medicare Part D at Ten Years: The 2015 Marketplace and Key Trends, 2006-2015, and a companion article in Health Affairs, examine the program's first decade just ahead of the 2016 Medicare open enrollment period (October 15-December 7). Both papers were co-authored by Jack Hoadley of Georgetown University and Juliette Cubanski and Tricia Neuman of the Foundation. Among the key findings:
Among Part D's 39 million enrollees in 2015, 61 percent are in stand-alone drug plans that supplement traditional Medicare, and the rest are covered by Medicare Advantage prescription drug plans; over the past decade, the share in Medicare Advantage drug plans has increased from 28 percent to 39 percent, reflecting the overall trend in Medicare Advantage enrollment growth.
The average monthly premium charged by stand-alone drug plans has been flat since 2010, though it has increased more than 40 percent since the start of the program, from $26 to $37. Average monthly premiums for Medicare Advantage drug plans are lower by comparison, but have been increasing since 2011.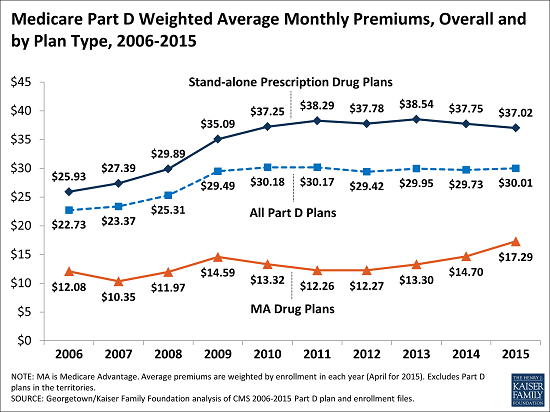 All stand-alone drug plans have a specialty tier, and about half of all enrollees in these plans face 33 percent coinsurance for high-cost specialty drugs. Medicare Part D stand-alone plans tend to have higher copays for brand-name and specialty tier drugs than do large employer-sponsored plans, but lower copays for generics.
81 percent of stand-alone Part D enrollees are now in plans with tiered pharmacy networks, a dramatic increase from 6 percent in 2011. Under such arrangements, beneficiaries pay less at pharmacies where plans have negotiated lower prices – but more if they use other pharmacies.
Both the full report and the Health Affairs article, Medicare's Part D Drug Benefit at 10 Years: Firmly Established And Still Evolving, are available at kff.org.