Current enrollees in stand-alone Medicare Part D plans are projected to face an average 9 percent increase in premiums if they remain in their current plan for 2017, according to an analysis released today by the Kaiser Family Foundation.
During Medicare's 2017 open enrollment period, which runs from Oct. 15 through Dec. 7, Medicare beneficiaries in each state will have a choice of 22 stand-alone Part D drug plans (PDPs), on average. This is fewer than in any year since 2006 but still a substantial number of options, finds the analysis, Medicare Part D: A First Look At Prescription Drug Plans in 2017, which was co-authored by researchers at Georgetown University and the Foundation.
If enrollees stay in the same plan next year, average monthly premiums are projected to rise to $42.17 in 2017 – a 9 percent increase from $38.57 this year. As in years past, average premiums are expected to vary across the plans with the largest enrollment, ranging from $16.81 to $71.66 per month in 2017. Monthly premiums also vary across states, from a low of $31.27 in New Mexico to a high of $50.95 in New Jersey, on average.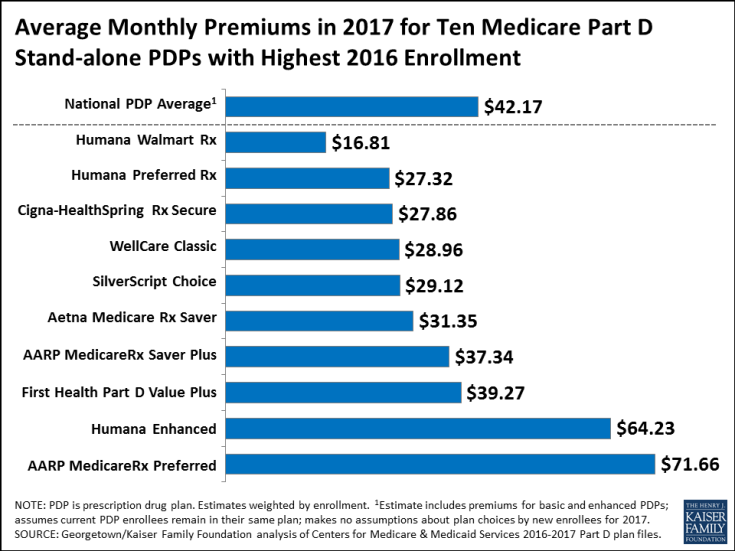 In addition to plan premiums, enrollees' total out-of-pocket spending for prescription drugs is influenced by other factors, including deductibles, cost-sharing amounts, and whether their drugs are covered by their plan. According to new analysis, Part D deductibles are on the rise for 2017. Part D enrollees who stick with the same stand-alone drug plan are projected to pay a deductible of $195 in 2017, on average, up 7 percent from $182 in 2016.
As in 2016, most stand-alone Part D plans will charge coinsurance rather than copayments for non-preferred brand name and specialty drugs in 2017, which can result in higher out-of-pocket costs for people who take these drugs. The typical coinsurance for non-preferred drugs is 40 percent in 2017. About one third of all plans will charge no copayment for preferred generics to encourage greater use of these drugs.
The annual enrollment period gives Medicare's 57 million beneficiaries the opportunity to choose or change Part D drug plans and Medicare Advantage plans, as well as move between traditional Medicare and a Medicare Advantage plan. Fact sheets explaining the Part D drug benefit and Medicare Advantage are available.