Major Players in Domestic Violence, HIV and Women's Health Confront Silence and Barriers to Care
MENLO PARK, Calif., Oct. 20, 2015 – One in three women in the United States experiences intimate partner violence. For women living with HIV, it is one in two. Having an abusive partner is associated with a higher risk for HIV and, for those living with HIV, worse health outcomes.
Coinciding with National Domestic Violence Awareness Month, Greater Than AIDS today launched Empowered: Women, HIV and Intimate Partner Violence to bring more attention to the issues and provide resources for women who may be at risk of, or dealing with, abuse and HIV.
The campaign is produced in partnership with the National Domestic Violence Hotline, loveisrespect, Planned Parenthood Federation of America, Positive Women's Network-USA and The Well Project, with additional support from The Elizabeth Taylor AIDS Foundation.
Anchored by a 20-minute video featuring Tonya Lewis Lee – lawyer, author, producer and longtime advocate for women's health issues – the campaign takes an up-close look at the issue from the perspective of five women living with HIV who have had experience with, and received services related to, intimate partner violence.
During the intimate conversation, Ms. Lee and the women discuss topics such as recognizing the signs of abuse, getting out and getting help, finding love again and moving forward. "What I took from my conversation with these five women is that this is an issue that can and does affect many women, and with care and support it is possible to move forward," added Ms. Lee.  "I was deeply inspired by them and I know others will be too."
"While the women featured in the campaign have been public advocates in the HIV community, this is the first time many of them are talking so openly and publicly about the abuse they've experienced," noted Tina Hoff, Senior Vice President and Director, Health Communication and Media Partnerships at the Kaiser Family Foundation, which directs Greater Than AIDS. "In speaking out, they are helping to confront the silent shame that keeps many women from getting help."
"Our goal is for women to know that they are not alone and that there is help available," said Cameka Crawford, Chief Communications Officer at the National Domestic Violence Hotline and loveisrespect. "Everyone deserves to be treated with dignity and respect."
According to U.S. Centers for Disease Control and Prevention (CDC), women experiencing intimate partner violence – including physical violence, emotional abuse and/or controlling behavior – have an increased risk of HIV infection through forced sex with an infected partner, limited or compromised power to negotiate safer sex practices, and increased sexual risk-taking behavior.
For women living with HIV, lifetime abuse and the depression and trauma that often accompanies it can make it difficult to keep up with HIV medications and stay connected to care, which can significantly compromise their health. For some, sharing their HIV status can increase abuse or bring on violence.
More than 375 community-based organizations across the nation – including Minority Health Consortium in Richmond, Virginia; Allen Temple Baptist Church in Oakland, California; My Brother's Keeper, Inc. in Jackson, Mississippi; and SisterLove, Inc. in Atlanta, Georgia, as well as Planned Parenthood health centers – are supporting the effort by organizing events to watch and discuss the video. The Positive Women's Network-USA is utilizing the campaign to mobilize around its annual Day of Action to End Violence Against Women Living with HIV (October 23). A digital media campaign will extend the reach of the women's stories.
"Trauma-informed care is a critical aspect of healing for women living with HIV," said Naina Khanna, Executive Director, Positive Women's Network-USA. "This campaign also helps to educate the organizations and clinicians that serve women living with and at risk for HIV to better understand that connection."
"As the nation's leading women's health care provider, educator, and advocate, Planned Parenthood is delighted to be a partner in this joint effort to address the connection between HIV and relationship violence," said Leslie Kantor, PhD, MPH, Vice President of Education for Planned Parenthood Federation of America. "We're committed to helping remove the stigma and shame that so many women in abusive relationships experience and to getting them the resources they need." In 2014, Planned Parenthood screened more than 1.6 million women for intimate partner violence and provided HIV testing to more than 650,000 people.
"Women are more likely to feel hope and engage in care when they know they are not alone in dealing with these issues and when they see others who have found a way out," said Krista Martel, Executive Director, The Well Project, which supports women living with HIV.
For more about the campaign go to empowered.greaterthan.org or to watch the videos go to youtube.com/greaterthanaids.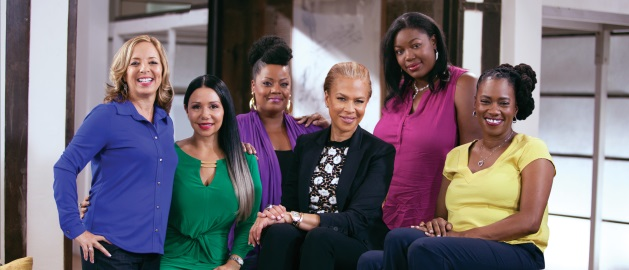 About Greater Than AIDS
Greater Than AIDS is a leading national public information response focused on the U.S. domestic epidemic. Launched in 2009 by the Kaiser Family Foundation and Black AIDS Institute, it is supported by a broad coalition of public and private sector partners, including: major media and other business leaders; Federal, state and local health agencies and departments; national leadership groups; AIDS service and other community organizations; and foundations, among others. Through targeted media messages and community outreach, Greater Than AIDS works to increase knowledge, reduce stigma and promote actions to stem the spread of the disease. While national in scope, Greater Than AIDS focuses on communities most affected.
About Kaiser Family Foundation
The Kaiser Family Foundation, a leader in health policy analysis, health journalism and communication, is dedicated to filling the need for trusted, independent information on the major health issues facing our nation and its people. The Foundation is a non-profit private operating foundation based in Menlo Park, California.
About National Domestic Violence Hotline / LoveIsRespect.Org
The National Domestic Violence Hotline is a non-profit organization providing victims and survivors with life-saving tools and immediate support. Loveisrespect is a project of the National Domestic Violence Hotline and Break the Cycle where highly trained peer advocates offer free phone, text and chat services to young people 24/7/365. Callers to the hotline 1-800-799-SAFE (7233) can expect highly trained advocates to offer compassionate support, crisis intervention information and referral services in more than 200 languages. Visitors to TheHotline.org and loveisrespect.org can find information about domestic violence, safety planning, local resources, and ways to support the organization.
About Planned Parenthood Federation of America
Planned Parenthood is the nation's leading provider and advocate of high-quality, affordable health care for women, men, and young people, as well as the nation's largest provider of sex education. With approximately 700 health centers across the country, Planned Parenthood organizations serve all patients with care and compassion, with respect and without judgment. Through health centers, programs in schools and communities, and online resources, Planned Parenthood is a trusted source of reliable health information that allows people to make informed health decisions. We do all this because we care passionately about helping people lead healthier lives.
About Positive Women's Network
Positive Women's Network – United States of America (PWN-USA) is a national membership body of women living with HIV, inclusive of transgender women. PWN-USA's mission is to prepare and involve women living with HIV in all levels of policy and decision-making. Led by women with HIV, PWN-USA inspires, informs and mobilizes women with HIV to advocate for changes that improve our lives and uphold our rights. Visit www.pwn-usa.org and follow @uspwn on Twitter.
About The Well Project
The Well Project is a non-profit organization whose mission is to change the course of the HIV/AIDS pandemic through a unique and comprehensive focus on women and girls. The Well Project leverages technology to improve health outcomes and increase quality of life for women and girls living with HIV by expanding access to HIV information and improving health literacy; providing community building and support; advocacy and capacity development; and advancing the research agenda.
About The Elizabeth Taylor AIDS Foundation
Elizabeth Taylor established The Elizabeth Taylor AIDS Foundation (ETAF) in 1991 to support organizations delivering direct care and services to people living with HIV and AIDS, often to the most marginalized populations. Today, ETAF also provides funding for HIV prevention education and advocacy programs throughout the world, including existing organizations creating new and innovative techniques that help spread awareness of HIV prevention and treatment to targeted communities. To date, ETAF has granted $17 million to more than 675 organizations in 44 countries and 42 states in the U.S.