Targeted Media Messages Promote Free and Low-Cost Testing Services
New Partnership with the International Association of Providers of AIDS Care (IAPAC) Supports Providers with Materials in Clinics to Urge Patients to Test for HIV
Free In-Store HIV Testing Offered in Select Walgreens Stores as part of an Ongoing Partnership
MENLO PARK, CA, June 25, 2014 – Greater Than AIDS, a leading national public information response to the domestic AIDS epidemic, has released new targeted media messages urging Americans to get tested for HIV as part of efforts coinciding with National HIV Testing Day (June 27). A new partnership with the International Association of Providers of AIDS Care (IAPAC) places materials in clinics to support providers in HIV outreach, and an ongoing partnership with Walgreens offers free HIV Testing in select pharmacies.
By profiling real-life stories of people who got tested –including both those with positive and negative results – the I Got Tested campaign highlights the importance of knowing one's status regardless of the outcome, routinizing testing, and reducing stigma. Media ads appearing throughout June promote free and low-cost testing in communities by promoting hotlines and web-based resources provided by departments of health and agencies and Centers for Disease Control and Prevention (CDC).
Of the more than 1.1 million people living with HIV/AIDS in the U.S, an estimated one in six, or more than 180,000 people, does not know they are positive. Moreover, one-third of those who test HIV positive are diagnosed so late in the course of their infection that they develop AIDS within a year. For many, the delay in diagnosis and linkage to care denies them the benefit of life-saving antiretroviral therapy (ART). According to the CDC, only one in four people with HIV in this country has their virus "under control" with treatment. Early diagnosis and treatment saves lives AND is known to reduce the spread of HIV.
"Despite overwhelming evidence that early diagnosis and treatment play an important role both in the health of those who are positive and in reducing the spread of HIV, many Americans at highest risk for infection still have not been tested," said Tina Hoff, Senior Vice President and Director of Health Communication and Media Partnerships at the Kaiser Family Foundation, a co-founding partner of Greater Than AIDS. "This campaign is about helping to reduce the stigma surrounding HIV testing, to encourage patients to ask their providers to get tested, and to connect people with services in their communities."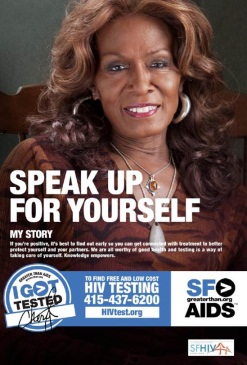 Public service announcements, including billboards and transit postings appear throughout June, with over 10,000 placements across the country in 40 priority markets, including: Atlanta, Baltimore, Birmingham, Charlotte, Chicago, Dallas, Detroit, Houston, Miami, New Orleans, New York City, Oakland, Philadelphia, Richmond, San Francisco, and Washington, D.C.  Select campaign placements are supported by the Georgia Department of Public Health, Louisiana Department of Health and Hospitals, Texas Department of State and Health Services and Virginia Department of Health. Other Greater Than AIDS media partners are extending the reach of messages on other platforms, including radio, TV and digital. To view all creative assets, visit greaterthan.org/i-got-tested.
Through a new partnership with IAPAC, Greater Than AIDS is distributing nearly 10,000 kits containing 1.25 million HIV testing-themed outreach materials to health care providers across the country to encourage HIV testing as a part of routine care. Greater Than AIDS is also providing I Got Tested community materials to health departments and community organizations across the nation.
"We are pleased to join with Greater Than AIDS to support our network of clinicians by promoting best practices in HIV testing" said Dr. José M. Zuniga,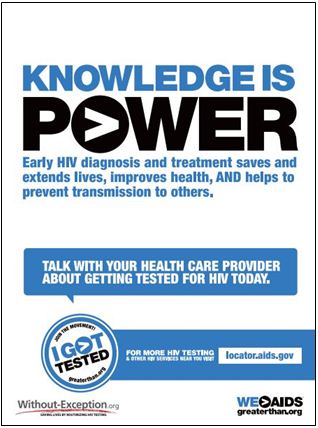 President and CEO of IAPAC.  "As providers, we must routinize HIV testing in clinical settings, ensuring that undiagnosed Americans are screened and tested for HIV and, if positive, subsequently linked to care and treatment€ – Without Exception."
Also this month, Greater Than AIDS and Walgreens, the nation's largest drugstore chain, are teaming with health departments and local AIDS service organizations for the fourth year in a row to offer free in-store HIV testing between June 26-28 at select Walgreens in more than 140 cities with results available on-site. BioLytical Laboratories donated 10,000 INSTI HIV one-minute, finger stick test kits to support the effort.  For more about the Greater Than AIDS/Walgreens promotion, including participating stores, go to greaterthan.org/walgreens.
"Since the beginning of the epidemic, Walgreens has served as a trusted resource to help people know their status and manage their condition," said Glen Pietrandoni, senior director, virology, specialty products and services, Walgreens.  "We are proud to collaborate with Greater Than AIDS and community partners to increase access to testing and education which we know is critical to being a part of the solution to end AIDS."
About Greater Than AIDS
Greater Than AIDS is a leading national public information response focused on the U.S. domestic epidemic. Launched in 2009, it is supported by a broad coalition of public and private sector partners, including: major media and other business leaders; Federal, state and local health agencies and departments; national leadership groups; AIDS service and other community organizations; and foundations, among others. Through targeted media messages and community outreach, Greater Than AIDS works to increase knowledge, reduce stigma and promote actions to stem the spread of the disease. While national in scope, Greater Than AIDS focuses on communities most affected.
The Kaiser Family Foundation provides strategic direction and day-to-day management, as well as oversees the production of the campaigns. The Black AIDS Institute – a think tank exclusively focused on AIDS in Black America – provides leadership and expert guidance and supports community engagement. Additional financial and substantive support is provided by the Elton John AIDS Foundation and Ford Foundation, among others.
###