Americans See Many Factors Behind AHCA's Failure, But Few Republicans Blame President Trump
Despite divided views about the Affordable Care Act, three-fourths of the public (75%) say President Trump and his administration should do what they can to make the law work, while one in five (19%), including 38 percent of Republicans, say the Administration should do what it can to make the law fail so they can replace it later, the latest Kaiser Health Tracking Poll finds.
Fielded after the U.S. House cancelled its March 24 vote on a plan to repeal and replace the Affordable Care Act supported by President Trump and House Speaker Paul Ryan, the poll finds majorities of Democrats (89%) and independents (78%), and half of Republicans (51%) want the Trump Administration to make the law work, as do a majority of President Trump's supporters (54%).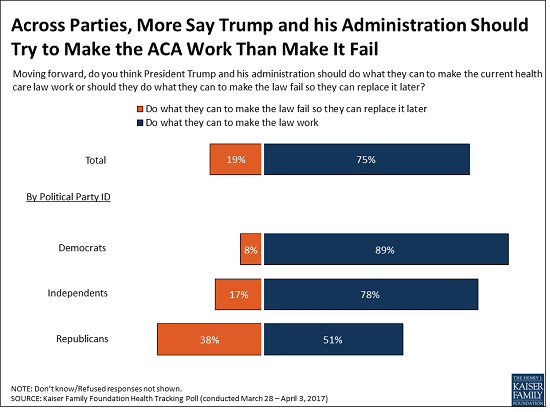 When asked who is responsible for any problems with the Affordable Care Act going forward, six in 10 (61%) say that President Trump and Republicans in Congress would be responsible because they are in control of the federal government. Fewer (31%) say former President Obama and Democrats in Congress are responsible because they passed the law.
Two thirds of the public (64%) say it is a "good thing" that Congress did not pass the Republican repeal and replace legislation called the American Health Care Act (AHCA), more than twice the share (29%) who say it is a "bad thing".  However, those who say the bill's failure was a good thing are split nearly equally between those who don't want to see the Affordable Care Act repealed at all (31% overall) and those who want it repealed but had concerns about the Republican bill (29% overall).
More Americans (52%) say they are "relieved" that the Republican bill did not pass than say they are "happy" (44%), "disappointed" (40%), or angry" (20%). Most Republicans (68%) say they are disappointed that the bill failed, while most Democrats say they are relieved (78%) and happy (70%).
When asked who is most to blame for the failure of the Republican bill, the public is divided with about one-third (33%) saying Republicans in Congress, three in 10 (28%) saying President Trump, and one-fourth (24%) saying Democrats in Congress. Among Republicans, few (14%) blame President Trump, with half (47%) blaming Congressional Democrats and a quarter (27%) blaming Congressional Republicans.
The public also sees a number of major factors contributing to why Congress did not pass the bill, including lack of support from Democrats in Congress (55%) and lack of support from Republicans in the conservative House Freedom Caucus (53%). About half also say lack of support from moderate Republicans in Congress (47%) and lack of leadership from President Trump (47%) were major factors. Fewer say lack of support from doctors, hospitals, and other interest groups (43%), lack of leadership from House Speaker Paul Ryan (41%), and town hall protestors (37%) were major factors.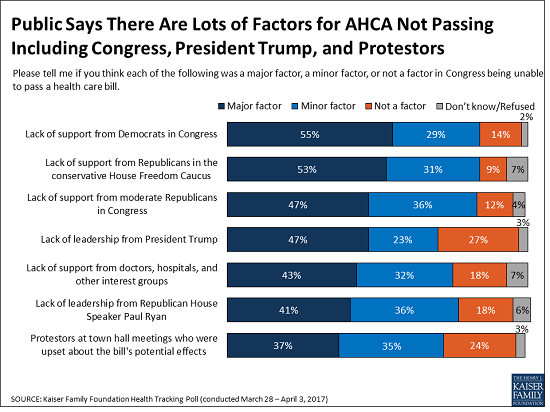 Republicans are most likely (75%) to cite Democrats' lack of support as a major factor in AHCA's failure, followed by the lack of support from the conservative House Freedom Caucus (45%) and Republican moderates (36%). Less than one-third of Republicans cite the lack of leadership from either House Speaker Paul Ryan (29%) or President Trump (14%) as major factors.
Other findings include:
The public remains divided in its view of the Affordable Care Act itself, with equal shares holding unfavorable (46%) and favorable (46%) views. This reflects somewhat less favorable views to the law than Kaiser polls taken earlier this year.
There is no general consensus on what President Trump and Republicans in Congress should do next on health care. About half of the public (49%) say they should stop working on health care and move on to other priorities and 45 percent want them to keep working on a plan to repeal and replace the Affordable Care Act. Partisanship colors these views, with most Republicans wanting them to keep working to repeal and replace the ACA, most Democrats wanting them to move on, and independents evenly divided.
The AHCA's failure has dampened the public's expectations that President Trump could fulfill his campaign promise to provide better care to Americans at a lower cost. The poll finds about a third (37%) of the public expect President Trump to be able to deliver on that promise, down from about half (47%) in December. Most Republicans (80%) remain at least somewhat confident that President Trump can deliver on this promise.
Designed and analyzed by public opinion researchers at the Kaiser Family Foundation, the poll was conducted from March 28- April3 among a nationally representative random digit dial telephone sample of 1,203 adults. Interviews were conducted in English and Spanish by landline (422) and cell phone (781). The margin of sampling error is plus or minus 3 percentage points for the full sample. For results based on subgroups, the margin of sampling error may be higher.