Three-Quarters of the Public, Including Most Republicans, View Medicaid Favorably; Most Oppose Federal Funding Cuts to States
As the Senate prepares to vote on the Republican bill to repeal and replace the Affordable Care Act and cap federal Medicaid funding, a new Kaiser Family Foundation Tracking Poll finds most Americans oppose the Republican plan and many of its key provisions. A majority of Republicans, however, continue to support the Republican plan, though by a significantly narrower margin than last month.
Most (55%) of the public holds an unfavorable view of the Republican plan, while 30 percent hold a favorable one. There is also a large intensity gap, with far more saying they have "very unfavorable" views (38%) than "very favorable" ones (11%).
While a large majority of Democrats (85%) and most independents (52%) hold unfavorable views of the plan, most Republicans (56%) and supporters of President Trump (55%) continue to hold favorable views – though support among these groups has fallen significantly since May, when two-thirds of Republicans (67%) and seven in 10 Trump supporters (69%) viewed it favorably.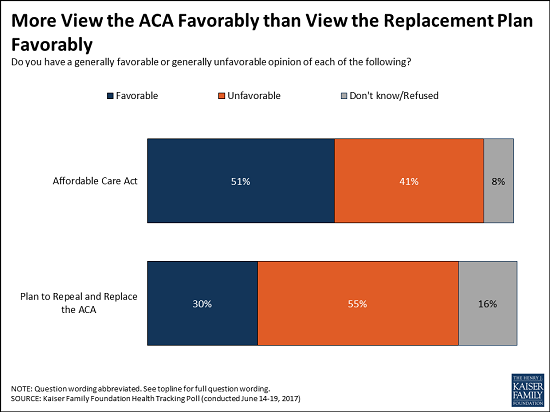 In contrast, the Affordable Care Act itself remains far more popular than the plan that would replace it.  Half (51%) of the public now views the Affordable Care Act favorably – the first time favorability has topped 50 percent in the 79 Kaiser polls taken since it began tracking public opinion on the law in 2010.
Half of the public (50%) also believe that they and their family will be better off if the Affordable Care Act remains the law of the land, compared to a little more than a third (36%) who think they will be better off under the Republican plan. Most Democrats (80%) and half of independents (50%) say they would be better off under the status quo, while three-quarters of Republicans (74%) say they would be better off under the replacement plan.
"The public at large is deeply skeptical about the repeal-and-replace plan, with support among the Republican base hanging in but slipping and in danger of falling further," says Drew Altman, president and CEO of the Kaiser Family Foundation.
On Medicaid, the federal and state program that provides health insurance and long-term care to low-income Americans, three-quarters (74%) of the public – including most (61%) Republicans – have a favorable view. Most, including majorities across parties, also say the program is working well for most low-income people nationally (61%) and in their state (67%).
Just over a third of the public supports two key elements of the Republican plan that would limit federal funding to states: reducing federal funding for the ACA's Medicaid expansion (36% support this) and changing federal Medicaid funding to limit how much money states receive (35% support). Limiting federal Medicaid funding for long-term care for seniors and people with disabilities draws less support (21%). In contrast, majorities of the public support attaching conditions to Medicaid coverage – allowing states to condition Medicaid eligibility on work requirements for non-disabled adults (70% support) and drug testing (64% support).
Republicans are more likely to support most of these potential Medicaid changes than are Democrats or independents.
The public is not clued in to the major changes proposed to Medicaid. About four in 10 Americans (38%) are aware that the House-passed Republican plan makes "major reductions" to federal funding for Medicaid over the next ten years, while an additional quarter (27%) say the health care plan makes "minor reductions." Some (13%) incorrectly say the plan makes "no reductions" to Medicaid, while one in five (20%) say they don't know if it makes any reductions.
The poll also finds the public prefers the status quo to the Republican plan in other ways, in some cases with majority support across party lines:
A large majority (70%) say the federal government should continue to prohibit health insurance companies from charging people with pre-existing health conditions more for their coverage, while one-quarter (26%) say that states should be able to decide whether insurers can charge people with pre-existing conditions more as in the House-passed bill. Majorities of Democrats (84%), independents (68%), and Republicans (59%) want the federal government to continue protections for people with pre-existing conditions.
Two-thirds of the public (66%) want the federal government to continue to require health insurance companies to cover specific benefits, twice the share (31%) who say states should be able to allow insurers to sell plans with more limited benefits as under the House-passed bill. Again, majorities of Democrats (81%), independents (65%), and Republicans (52%) prefer the status quo.
Few Americans (8%) say repealing and replacing the Affordable Care Act should be the "most important priority" for President Trump and Congress. This is true across political identification, though half (50%) of Republicans view repealing and replacing the law as at least a "very important" priority. Far fewer Democrats (18%) or independents (28%) say the same.
If the current repeal and replace plan fails to pass Congress, nearly equal shares of the public say they want President Trump and Congress to keep working on the issue (49%) as say they want them to stop working on health care and move on to other priorities (45%). Partisans split on this question, with most Republicans (80%) wanting work on repeal to continue, most Democrats (67%) wanting to move on to other issues, and independents divided (49% want work to continue, 45% want to move on).
Either way, the vote could carry political consequences for members of Congress. While about three in 10 of the public say their representative's vote for or against the plan would have "no effect" on their support, half of Democrats say they would be "more likely" to support a representative who voted against the Republican plan (51%) while most (61%) Republicans say they would "more likely" to support a representative who voted for the plan. Independents are more divided, with about one-third of independents saying they are "more likely" to support a representative who voted against the plan (35%) and "less likely" to support a representative who voted for the plan (36%).
Designed and analyzed by public opinion researchers at the Kaiser Family Foundation, the poll was conducted from June 14 – 19 among a nationally representative random digit dial telephone sample of 1,208 adults. Interviews were conducted in English and Spanish by landline (427) and cell phone (781). The margin of sampling error is plus or minus 3 percentage points for the full sample. For results based on subgroups, the margin of sampling error may be higher.