Many Provisions That Take Effect in 2010 Are Popular and Have Bipartisan Support
Cable News Tops List of the Public's "Most Important" Information Sources
MENLO PARK, Calif. –The first Kaiser Health Tracking Poll fielded since the passage of health reform last month finds that 8 in 10 Americans know that President Obama signed the legislation  into law.  But 55 percent say they are confused about the law and more than half (56%) say they don't yet have enough information to understand how it will affect them personally.
The April poll finds that the public supports many of the provisions of health reform that are set to be implemented in the short term.  When asked about 11 specific provisions scheduled to take effect this year, in each case a majority of Americans viewed them favorably, often with bipartisan support.
Still, the public remains divided on the law overall, with 46 percent viewing it favorably, 40 percent unfavorably and 14 percent undecided.  Similarly, 31 percent of Americans say they expect personally to be better off because of the law, while 32 percent say they will be worse off and 30 percent say they don't expect to be affected.
"People are struggling to understand how the law will affect them and their families and to separate fact from political spin," said Kaiser President and CEO Drew Altman.
Many Reform Provisions That Take Effect in 2010 Are Popular With Bipartisan Support
The new law was constructed to include some provisions that take effect in the first year so that the public would feel tangible results in the short term.  The poll tested the popularity of many of these early measures and finds widespread support for them across the political spectrum, including among Republicans and independents
Nearly 9 in 10 Americans favor providing tax credits to small businesses that want to provide coverage for their workers, for instance. And roughly 8 in 10 have favorable views of provisions that would offer access to basic preventive care with no copayments, provide financial help to seniors who hit the gap in Medicare drug coverage known as the "doughnut hole," and end insurance companies' practice of dropping coverage if a person has a major health problem.
In each of these cases, at least two-thirds of Republicans and independents join most Democrats in viewing the provisions favorably.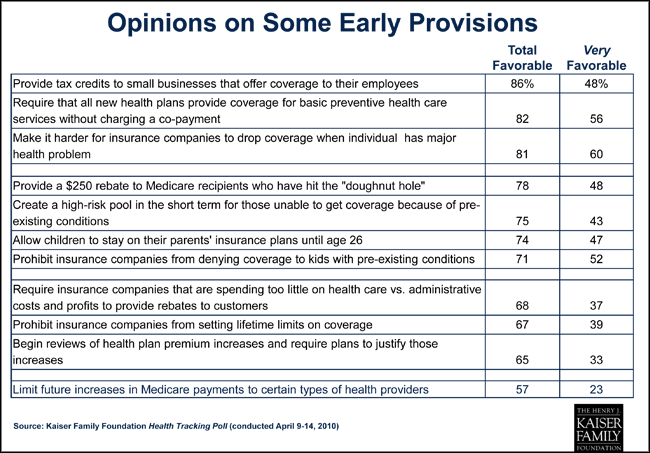 Americans Are More Confused Than Angry About Health Reform
Although anger grabs the headlines, the only emotion shared by more than half of the public when it comes to the health reform law is confusion.  Overall, 55 percent say they are confused, an emotion more deeply rooted among those who feel unfavorably toward reform (61% of whom feel confused) than among those who favor it (44% of whom feel confused).
Minorities of Americans report feeling other emotions, including 45 percent each who say they are "pleased" or "disappointed," 42 percent who are "anxious," and 40 percent who are "relieved."  Anger is at the bottom of the list, a feeling reported by 30 percent of the public, including 16 percent who say they are "very angry."  Asked what about health reform made them angry, that 30 percent divided as follows: 9 percent did not like the way the policymaking process worked, 7 percent did not like the final content, and 12 percent did not approve of either.
Cable TV News Is The "Most Important" Source of Information About Reform Law
Americans of all political leanings pointed to cable television news more than any other source when they were asked to choose their most important source of news and information about the law.  More than a third (36%) cited cable TV news stations and their websites as their most important outlet, followed by network news (16%), newspapers (12%), friends and family (10%) and the radio (9%).
There were some differences along party lines, however. Republicans were more likely to name cable TV as their most important news source, with 45 percent saying so compared to 30 percent of Democrats.  On the other hand, Democrats were twice as likely as Republicans and independents to say that they got most of their information from network news (23% of Democrats compared to 12% of the other two groups).
Overall sentiment about the new law still breaks sharply along partisan lines. Nearly 8 in 10 Democrats (77%) favor the new law, while about as many Republicans (79%) view it unfavorably, a mix very similar to that seen before the bill's passage in March. Political independents tilt against the law (46 percent opposed compared to 37 percent in favor), while self-described moderates favor the measure 55 percent to 31 percent.

Methodology
This Kaiser Health Tracking Poll was designed and analyzed by public opinion researchers at the Kaiser Family Foundation.  The survey was conducted April 9 through April 14, 2010, among a nationally representative random sample of 1,208 adults ages 18 and older.  Telephone interviews conducted by landline (801) and cell phone (407, including 171 who had no landline telephone) were carried out in English and Spanish. The margin of sampling error for the total sample is plus or minus 3 percentage points. For results based on subgroups, the margin of sampling error may be higher. The full question wording, results, charts and a brief on the poll can be viewed online at http://www.kff.org/kaiserpolls.
The Kaiser Family Foundation is a non-profit private operating foundation, based in Menlo Park, California, dedicated to producing and communicating the best possible information and analysis on health issues.
 # # #