As a group, older Americans are likely to see some of the biggest changes in their health insurance under the House-passed American Health Care Act (AHCA). The Congressional Budget Office projects that the number of 50- to 64-year-olds who are uninsured would rise to 10 million in 2026, about 5.1 million more than the number who would be uninsured under current law. Many of those who do have coverage would see steep increases in premiums well before then.
A new issue brief from the Kaiser Family Foundation explains the key AHCA provisions that would reshape the private market so it more closely resembles the pre-Affordable Care Act period, when adults in their fifties and early sixties — who tend to have more health problems than younger people – were the most at risk of facing unaffordable premiums or being uninsured. The AHCA's changes include greater latitude for insurers to charge older customers higher premiums, new waivers under which states could opt out of certain ACA insurance market rules and changes in the way tax credits are calculated. Because of the changes, some older adults — especially those with lower incomes — could see out-of-pocket costs for insurance premiums rise by thousands of dollars per year, according to the CBO.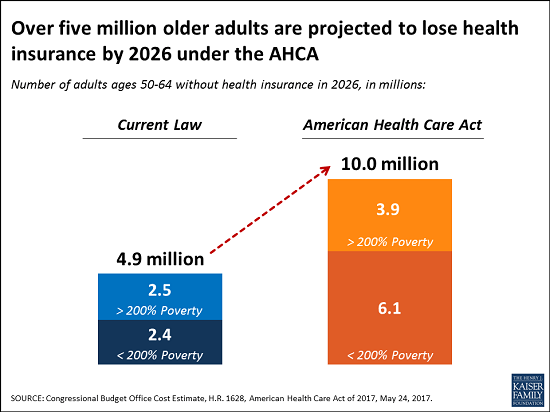 The new brief also notes that the AHCA's changes to Medicaid could leave some low-income adults age 50 to 64 without coverage. And it explains how an increase in the number of uninsured people in this age group could lead this population to be sicker and more expensive to care for when they become eligible for Medicare at age 65, pushing up costs for that program.