Pulling it Together: Implementation
When I was a graduate student at MIT my adviser Jeffrey Pressman was a great political scientist who had just written the seminal book on program implementation.  It was called, simply enough, Implementation, with a subhead that read: "how great expectations in Washington are dashed" (OK, we political scientists study politics too much and are a little cynical at times).  The book literally created a new subfield in political science focusing on program implementation.  This was one of its major conclusions:
"The great problem is to make the difficulties of implementation a part of the initial formulation of policy.  Implementation must not be conceived as a process that takes place after, and independent of, the design of policy."
Jeff Pressman's life ended at too early an age and he was not able to continue this work, but the message is as relevant now as it was when he wrote it in 1973.  So how does health reform stack up?
In one sense, not ideally so far.  There are huge administrative challenges ahead in implementing health reform that have barely been discussed in the public debate, and have not been explicitly addressed in the legislation, at least not yet.  Congress still has time to address these implementation issues and to provide funding through the health reform legislation itself or the appropriations process.
Many of these challenges would fall on the Department of Health and Human Services (HHS), its Centers for Medicare and Medicaid Services (CMS), and on state governments.  For example, HHS and CMS would likely have responsibility for designing, testing and evaluating a broad range of new payment methods, and for developing regulations to implement virtually every aspect of the legislation (some elements of the legislation would also be handled by the Department of Treasury, and in the House bill, much of the implementation related to coverage and insurance would fall to an entirely new federal agency, the Health Choices Administration).
States may be asked to shoulder substantial new administrative responsibilities critical to achieving the goals of the law.  In the Senate Finance Committee bill, for example, these include establishing and governing the new health insurance exchanges and overseeing insurance market reforms, both central features of the law.  There is debate about how much of the cost of the Medicaid expansion states should bear under the law, but to date there has not been much discussion of the administrative role of states, who have been laying off staff and cutting back on their administrative capabilities during tough fiscal times.  I spoke not too long ago to state health reform leaders at a Robert Wood Johnson Foundation sponsored meeting in Albuquerque and I can attest that shouldering these new responsibilities is very much on the minds of state officials.
Government will also have to forge new working relationships with the private sector to implement health reform.  Health care's major interest groups have by and large been inside the tent in formulating the legislation, but this will require establishing new regulatory and working relationships with the health care industry.
The lack of attention so far to implementation issues stands in sharp contrast to the approach ultimately taken when the Medicare Modernization Act (MMA) was passed.  The MMA included provisions to help HHS gear up quickly: a big boost in funding for administrative expenses and new authority to hire needed senior level staff.  The MMA appropriated $1 billion for the Centers for Medicare and Medicaid Services for administrative expenses associated with implementation and $500 million for the Social Security Administration, which administers the low-income subsidy benefit under the prescription drug law.  In addition, the law authorized the Secretary of HHS to hire management staff with expertise in health benefits, actuarial sciences and other content areas that would be needed "as the Secretary determines to be necessary" to "ensure the success of the new Medicare plans."  The new hires could be paid up to the highest rate of basic pay for Senior Executive Level staff.  Another important element, obviously not in the legislation but key for successful implementation nonetheless, is leadership.  CMS had a strong administrator who focused on MMA implementation.  But as of now, the CMS post remains vacant. In the case of the MMA, attention to implementation issues was framed as critical to the success of the law and to helping seniors wade through its complexity, and not as more money for government agencies or bigger government.  This will be important in the case of health reform where the task is even more complex, involving implementation challenges for both Federal agencies and the states.
In another sense, however, the health reform legislation is well-designed for implementation success.  That is because the law (as currently envisioned) would be phased in over a long period of time, providing time to prepare for implementation and react to naturally occurring opportunities for reassessment and modification in light of changing circumstances.
Although Congress established a long phase in period for key provisions of health reform primarily to stretch out costs so they could more easily be paid for, the fact that many elements of the law will not be in place until at least 2013 should also help smooth the process of implementation.  Congress was well aware that many changes contemplated in the law, such as reforming the non-group insurance marketplace or implementing complex changes in how hospitals and doctors are paid, needed to be phased in or tested through pilot projects.  There is a flip side of a lengthy phase in however: much can change as regulations are written and as elections occur that could alter the political landscape.  The timeline below illustrates how key features of the law would be phased in, using the recent Senate Finance Committee version of health reform as an example.  It shows many, but not all of the implementation milestones ahead, and when tangible benefits for people kick in.
Click on the chart to see a larger version.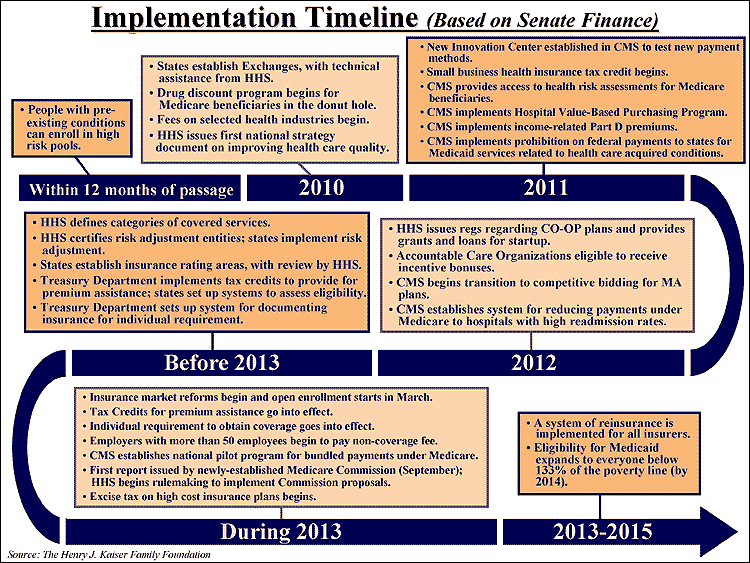 This long implementation period could also affect public expectations, and that could cut both ways.  Most people already have insurance and will not be directly impacted by the legislation, at least immediately.  Passage of any version of health reform currently being discussed would likely look to most Americans like historic progress and a big political victory for the President and the Democrats, with no apparent downsides (or upsides) that affect them directly.  On the other hand, given the high profile debate about health reform, public expectations are high (especially among people who are currently having problems in the health care system) and they may not see significant tangible benefits for several years.  There could be a letdown for those expecting immediate change.
To be sure, advocates of reform have their hands full just getting reform passed and signed into law as bills are poised to go to the floors of the House and Senate.  But for reform to ultimately be successful and accomplish the goals set for it, we should all think harder about Jeffrey Pressman's advice to plan now, not later, for implementation in formulating policy, and in particular about the substantial implementation challenges HHS and the states will face.  As policymakers work through the big policy and financing obstacles to a final agreement on health reform over the next three months, there will be an opportunity for Congress to focus on these issues.