KFF June Tracking Poll Finds Health Care in the November 2010 Mix
The start of summer finds Americans remain divided on the health reform law, but favorable views of the new law increased seven percentage points over the past month to 48 percent, compared to 41 percent who have "generally unfavorable" views and 10 percent who have yet to make up their minds, according to the Kaiser Family Foundation's newly released June Health Tracking Poll.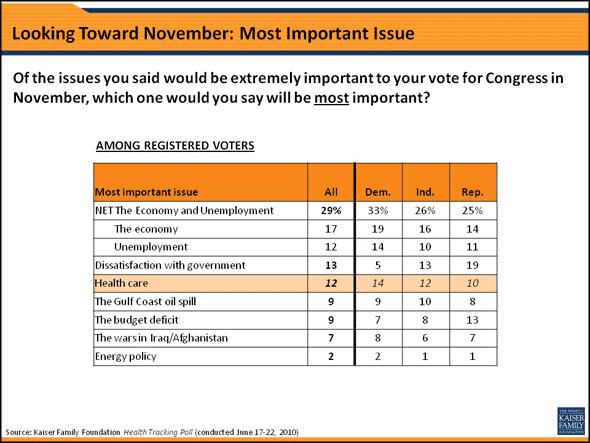 With four months remaining until the midterm congressional elections, an early look suggests that the contests could be impacted by a number of different issues, with the economy in the lead but health care also in the mix. When voters were pressed to choose the one issue that would be most important to their vote, economic concerns came out on top, with 29 percent naming either the economy or unemployment. In the next tier, 13 percent mentioned dissatisfaction with government, 12 percent mentioned health care, 9 percent each mentioned the Gulf Coast oil spill and the budget deficit, and 7 percent mentioned the wars in Iraq or Afghanistan.