Bernie Sanders, Hillary Clinton, and Medicare for All
This was published as a Wall Street Journal Think Tank column on December 20, 2015.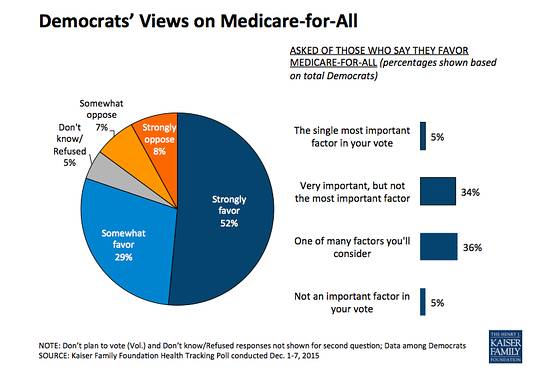 Kaiser Family Foundation data from December polling on Democrats' views of Medicare for all.
A skirmish broke out recently between Hillary Clinton and Bernie Sanders about the merits of single-payer health care, an idea that Mr. Sanders has long advocated. The candidates jousted about the financing of single-payer health care during the Democratic debate Saturday night. The differences between the two candidates on single-payer health care paint Mrs. Clinton as more moderate and Mr. Sanders as more liberal (no surprise there).
The question is: Do any Democratic primary votes turn on this issue? Single-payer health care and the Medicare-for-all variant of the idea has generally been popular among the left, but not many votes will be moved by this issue alone.
Most Democrats either strongly favor (52%) or somewhat favor (24%) the general idea of Medicare for all. Meanwhile, 62% of Republicans either strongly or somewhat oppose the idea. But, as the chart above shows, even though single payer has long been a cause celebre for many on the left, just 5% of Democrats are pure "single-payer voters" who favor Medicare for all and say that the candidate's stand on the issue will be the single most important factor in their vote. Thirty-four percent say it would be an important factor but not the most important, and 36% say that it would be just one of many factors they would consider. The poll did not test how much support for Medicare for all might diminish among Democrats in the face of arguments for and against the idea.
There is a large body of literature about the role of issues and single-issue voting in U.S. elections. In 2012, Gallup found that 17% of registered voters made a candidate's position on abortion a litmus-test issue. My sense is that voters perceive a presidential candidate's positions on issues as signals of the candidate's beliefs and of the direction he or she will attempt to take the nation if elected. Yet voters focus less on the details of candidate's policy plans, however much candidates and their staffs may slave over those details or the media may scrutinize them.
In his advocacy of Medicare for all, a policy that he recognizes cannot be achieved any time soon, Mr. Sanders is signaling his outside-the-box approach to policy and politics, while in opposing the idea Mrs. Clinton may have been signaling her more practical and incremental approach to achieving policy change.