2019 Employer Health Benefits Survey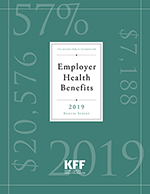 We expect to release the 2020 Employer Health Benefits Survey on Thursday, October 8.
This annual survey of employers provides a detailed look at trends in employer-sponsored health coverage, including premiums, employee contributions, cost-sharing provisions, offer rates, wellness programs, and employer practices. The 2019 survey included 2,012 interviews with nonfederal public and private firms.
Annual premiums for employer sponsored family health coverage reached $20,576 this year, up 5% from last year, with workers on average paying $6,015 toward the cost of their coverage. The average deductible among covered workers in a plan with a general annual deductible is $1,655 for single coverage. Fifty-six percent of small firms and 99% of large firms offer health benefits to at least some of their workers, for an overall offer rate of 57%.
Survey results are released in several formats, including a full report with downloadable tables on a variety of topics, a summary of findings, and an article published in the journal Health Affairs.
NEWS RELEASE
SUMMARY OF FINDINGS
FULL REPORT
HEALTH AFFAIRS
RELATED
WEB BRIEFING
INTERACTIVE GRAPHIC
KEY EXHIBITS-CHARTPACK
ADDITIONAL RESOURCES
Researchers at the Kaiser Family Foundation and NORC at the University of Chicago designed and analyzed the survey.